Vážení klienti,

pokud by nastal problem s vaší objednávkou přes náš

e shop, můžete poslat svou objednávku přes naši mailovou adresu:
info@tichavina.cz.  Děkujeme
RULLY
Domaine de la Folie- Rully-Burgundsko
Rully je vesnice s dlouhou historií. Může se pochlubit zámkem, který je ve stejné rodině již šest století, kostelem s elegantní zvonicí, ale i krásnými domy a parky. Klášter Saint-Bénigne v Dijonu, mocný Maison de Vergy, a vévodové z Bourgognu, hráli svou roli v historii těchto vinic v Côte Chalonnaise. Rully byla udělena jeho AOC v roce 1939 a nyní vyrábí červená vína (Pinot Noir) a bílá vína (Chardonnay) s oběma appellations Village a Premier Cru. Od počátku 19. století je navíc důležitým střediskem pro tvorbu CRÉMANT DE BOURGOGNE

Jemné rozdíly ve vínech jsou způsobeny rozdíly v půdě, expozici a nadmořské výšce, z nichž všechny se značně liší. Ve výškách 230-300 metrů, svahy kopců produkují vína, která mohou soutěžit s nejlepšími víny z nedalekého Côte de Beaune. Hroznů Pinot Noir roste na hnědých nebo vápenitých půdách s malými jíly v jejich líčení. Hroznová Chardonnay dává přednost jílovité půdě.
Rully v srdci Burgundska

Domaine de la Folie se nachází
v Chagny na severu Côte Chalonnaise.
Vinařství má 13 hektarů vinné révy, včetně Rully Premier Cru Clos Saint-Jacques, které patří mezi nejprestižnější vína

.
Vína z  tohoto vinařství se vyznačují eleganci, jemností z odrůd hroznů (chardonnay a pinot noir), charakter ročníku a svěžest, tak lze popsat
Domaine de la Folie.
Statek se nachází ve městě Rully,  a je proslulý jako zdroj nejlepších bílých vín v  této oblasti ,  nabízí čistá a elegantní vína.
Tento půvabný statek ze 16. století leží na vrcholu kopce de la Folie, dlouhého, vysokého hřebene, který byl v dávných dobách považován za " rejdiště víl a skřítků a místo, kde se smrtelníci neodvažují chodit . Pozemek je v péči rodiny Noël-Bouton již tři století. Tak dlouho bylo považováno za předního výrobce vín v Rully. Jméno "La Folie" je velmi staré. Podle některých historiků, to může odkazovat na tanec víl, známý jako "la folia"
Domaine de la Folie a její  jedinečnost v Rully apellation tkví v tom, že je nejsevernější v AC a jeho 32 akrů révy leží v nejvyšší  nadmořské výšce. Navíc - všechny kromě jedné z jejích vinic jsou monopoly, vinice patří  jen Domaine de la Folie, to znamená, že se napřiklad část vinice nebo řádků neděli s jiným vinařstvím, jak je to v Burgundsku běžné.  Severní kopec Montagne de la Folie leží na stejném vápenci, jako obec Puligny-Montrachet, jen něco málo přes tři míle daleko.
Dvě premiérové ​​ chardonnay, které jsou doménou vinařství, rostou na východním svahu. (často se říká, že prakticky všechny největší vinice na světě leží na východě). Mají výhled na starou cestu do Cluny a statek z 12. století, který kdysi poskytoval útočiště poutníkům, kteří šli do Santiaga, aby vzdali hold Saint-Jacques de Compostelle. Tato nejlepší premiér cru vinice je pojmenovaná po něm - Rully Premier Cru Clos Saint-Jacques
Z vyvýšeného místa panství se nabízí výjimečné panorama na okolní vinice. 
Domaine de la Folie je v rodině Noël-Bouton již po tři století.
Tato nemovitost byla obnovena a vyvinuta slavným fyziologem Etienne-Julesem Mareym, který byl profesorem na Collège de France, průkopníkem vývoje filmů a vynálezce chronofotografické pistole a sphygmografu. Jules Etienne-Marey, pradědeček majitele Jérôme Noël-Boutona, využil v roce 1890 na vrcholu kopce kruhové kamenné plošiny, na kterých mohl postavit svou otáčivou kamerovou pistoli, známého předchůdce videokamery.
Jeho přínos pro společnost mu vynesl jméno náměstí a sochu v Beaune.
 
Od poloviny devadesátých let minulého století se doména řídila zásadami lutte raisonnée změnami v zemědělských postupech, orání raději než postřikem herbicidy, opouštěním používání chemických hnojiv .


V současné době panství, od roku 2010, provozuje Baptiste a Clémence Dubrulle , pátá generace rodiny.Dynamická dcera Clémence, která vinařství vede a její manžel Baptise, který se stará o sklep a vinice se stali zásadní změnou a tak v současné době ve vinařství Folie dělají nejlepší vína.
Jejich bílá vína se vyznačují čerstvostí a mineralitou, červená  elegantnost ovoce. kromě toho vyráběji i skvělé Marc
de Bourgogne.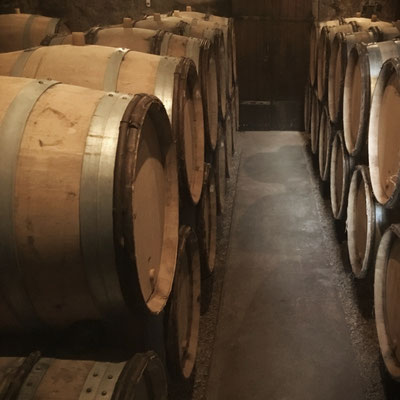 Rully 1er Cru 'Clos Saint-Jacques'

Malá vinice (1,69 ha) klasifikovaná jako 1er Cru patří výhradně Domaine de la Folie, proto je na etiketě napsáno  monopol. Vinice patří jen Domaine de la Folie.  Jejich Chardonnay je komplexní krásné bílé víno, zušlechťované citlivě v dubových sudech, elegantní a s potenciálem 10 i více let zrání.
Clos Saint Jacques je 4,2 akrů byl vysazen v roce 1952  a leží přímo na východ na strmém svahu.
Víno je plné staré intenzity vinné révy, jemnosti a dlouhověkosti .
Cím je starší tak patří k nejlepších bílým vínům apelace.
Víno má zlatozelenou barvou, která se s věkem prohlubuje. Vyniká nádhernými vůněmi živých květů (akátu, květu, zimolezu a velmi jemného bezového květu), stejně jako citronové, bílé broskve . Stárnutí přináší med, kdoule a sušené ovoce. Toto víno je plné ovoce, které je na patře živé a dobře zaoblené, masité a dlouhé. Má jak chlad, tak lesk z mramoru.
Intenzivní minerálnost s vynikajícím ovocem. Elegantní a lineární víno a ohromující vyrovnanost.
     


Terroir: Hlína a vápenec



   Výsatba: Východ
    Plocha: Monopol 1,69 ha
    Průměrný věk révy: 80/90 let
    Práce révy: Pěstování půdy, udržitelné pěstování a ruční sklizeň v malých bednách
    Vinařství - Stárnutí: Nízkotlaké lisování, pečlivé usazování, vinifikace bez SO2 a stárnutí v sudech (20% nový dub)
    Konzervace: 10 let v závislosti na podmínkách a ročníku
    Ochutnávka: mezi 12 a 14 ° C

Těstoviny, bohaté ryby (losos, tuňák atd.), Korýši,  měkký sýr, uzené maso
tvrdé sýry





Rully 'Clos La Folie'





Tato zděná
              vinice zaujímá severovýchodně orientovaný svah před domem.


            

 Současných 4,7 akrů Chardonnay
              byly vysazeny v roce 1972 a patří k nim dvě parcely
              Aligoté, parcely cassis a malý sad třešní.

  

 Živá minerality. Křupavá. Světla v barvě., peckové ovoce s dobře vyvážený obsah kyselin.

    Terroir: Hlína a vápenec
    Výsatba: Severovýchod-východ
    Plocha: Monopol 1,96 ha
    Průměrný věk révy: 40 let
    Práce révy: Pěstování půdy, udržitelné pěstování a ruční sklizeň v malých bednách
    Vinařství - Stárnutí: Nízkotlaké lisování, pečlivé usazování, vinařství bez SO2 a stárnutí v sudech
    Konzervace: 7 let v závislosti na podmínkách a ročníku
    Ochutnávka: mezi 12 a 14 ° C